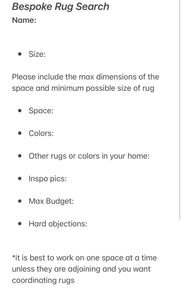 If you're looking for something specific that you don't see online- size, colour, style, etc. We now offer a bespoke rug search service. A $50 non refundable retainer is required for all custom searches. 
The client is responsible for providing direction on color scheme, size, and if possible style. Please also provide your budget. I can also work with inspiration photos/mood boards/Pinterest boards. There is a sample document of the minimum information needed that you can download and fill out and either email or dm me with. 
Upon receiving all required information/direction I will start searching. I will provide up to 5 options within 4 weeks. Some searches come together quicker than others and that's why I allow for up to 2 months to fulfill the search. Larger rugs or uncommon sizes may take a bit longer and have less options available. Vintage rugs are the luck of the draw and having some time to explore the rapidly changing market allows us to do a thorough search.
Pricing will vary and is entirely dependent on the nature of the search and the availability on the market. The client is not required to commit to any of the options. If the client wants to commit to one of the options presented, Balance due before shipping. If on arrival the rug is not what you are happy with, I accept returns, however a 20% restocking fee applies.
Approximate cost of rugs will be provided when options are presented whenever possible. 


*please note the photos are vendor photos and I have absolutely no control over them. What you see is what I'm seeing.